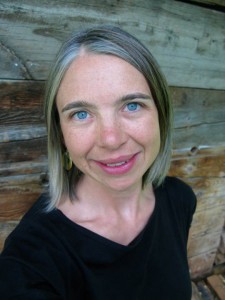 Growing up off the grid, in a two room cabin with a family of four, I came to appreciate different perspectives from an early age. I've enjoyed artistically exploring a variety of perspectives sever since.
In 2002, I graduated from the University of Montana, Missoula with a BFA in photography. It was during my final year of school that the inkling of the collage work I do today surfaced. Collage combines my passions for photography, perspective and variety.
In an effort to share the joy I find in looking back on my personal montages of past adventures, I will happily consider commissions to transform your memories into an actual vista through my unique technique of combining multiple photographs into a single painting.
After living in SE Alaska for a few years, I returned "south" to Teton Valley, ID, where I set up house with my husband and started a family. I avidly continue to make, market and show my works regionally.