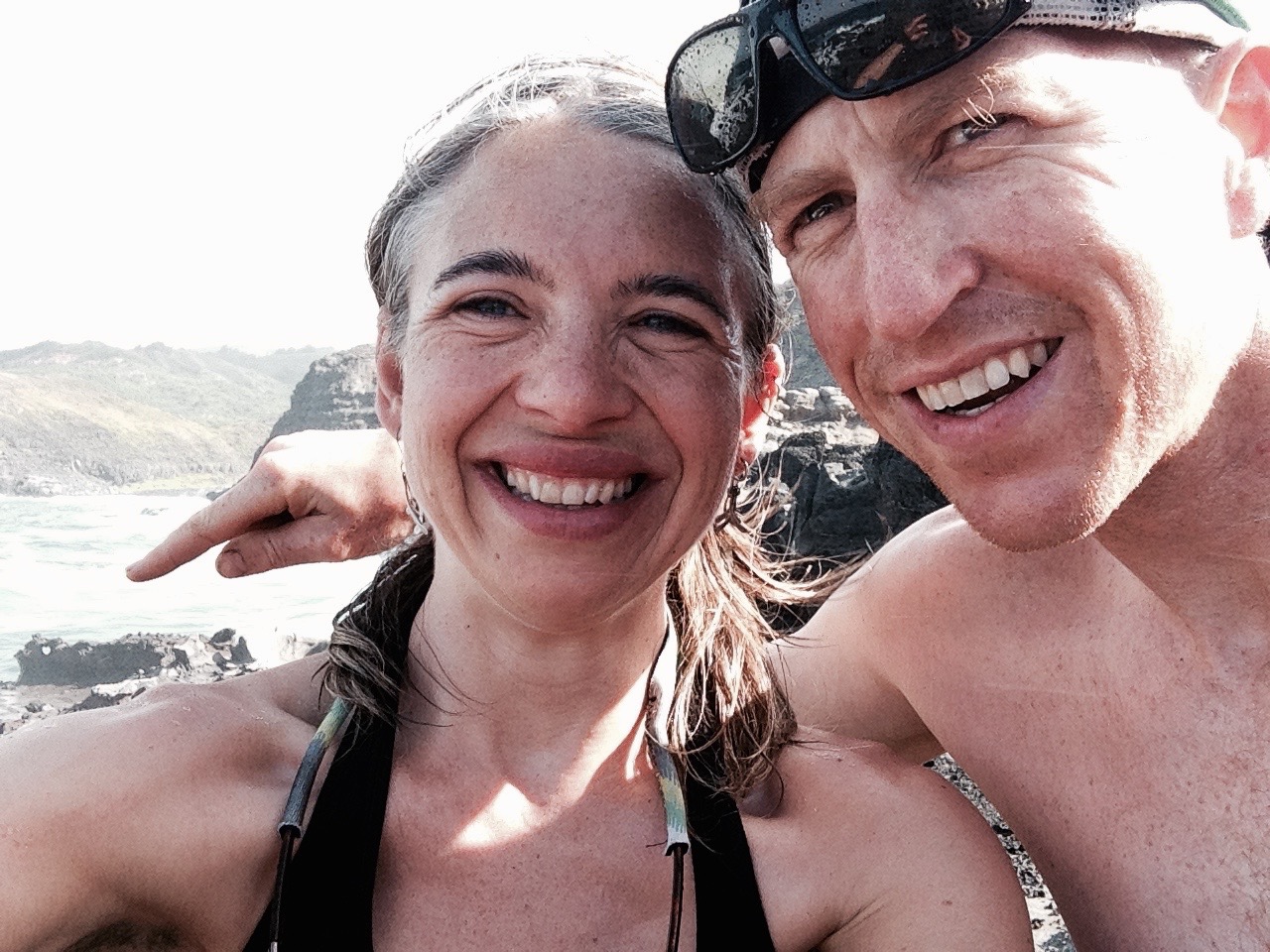 All in a Month: Maui, MRI, Surgery & More
Maui was marvelous – sun, snorkeling, sea turtles, family and fun.
The end of the trip meant coming home the hard reality of the follow-up oncology appointment and wether or not the suspicious spot was another growing tumor… Since we were slated to spin our wheels in Portland until the looming appointment date, it seemed well worth a quick call to a family friend who has a home on Maui. He very sweetly agreed to let us stay at his place and we gratefully opted to extend our trip a few days. This afforded us the opportunity to see and do a few more things on the island as a more mobile unit of three versus our previous family size of seven with Luke's sister and family. We proceeded to hike Iao Valley, drive around the western half of the island, find the heart hole in the rock and blow hole (featured above), ascend the volcano and swim at Baby Beach.
Despite our best efforts, time slipped by and eventually transported us back to the mainland. The next day, brought us back to the airport for a quick trip to San Francisco, sans Elsa. Auntie offered to keep her for the two nights we'd be gone and it was decided that this made the most sense across the board. She was in good hands and we took to the unfettered travel better than we anticipated – so easy.

Exploring the city alone made us feel young and new again. We took the BART from the airport to as close to the hotel as possible and then walked everywhere, surely putting 7-10 miles in each day. Living in a hiking destination, I realized it had been ages since we'd done as much at home without our little one in tow. Life is funny that way – full of different chapters.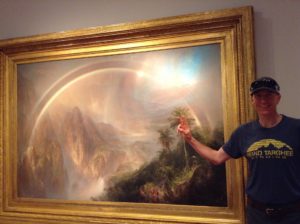 The weather was terrific – sunny and warm. We spent a lot of time in Golden Gate park and for a shot of art & culture, visited the de Young Museum and it's awesome tower for great views. Luke was super excited when I pointed out a Rudy Autio (Missoula artist) piece in the first room we entered. An especially interactive museum guard made time to point out the intricacies of a nearby piece and suggested we get a photo with a $26 million work featuring a rainbow upstairs. It was also beautiful and we obliged.
Our 12:00 Monday appointment inevitably came around. Luke had an MRI, followed by a visit with our oncologist, Dr. Clarke, whom we've grown fond of despite the news she often has to deliver and patiently walk us through. The news was lackluster. Of the two spots, one they would still regard as likely scar tissue, the other growing tumor; however, it had not grown as much as she anticipated it might have in the month since the last scan…
We reviewed our few options, weighed them against the reality of execution of each and ended up opting first for a clinical trial. Another resection is possible, but designated as a recurrence this time, it's time to try something else. I think everyone is hesitant to perform a 3rd major open brain surgery within 9 months when he is doing so well. The train of thought is that this is small, let's try another angle first, knowing we have surgery as a fall-back.
Luke is the 5th patient in this particular phase 1 clinical trial. Phase 1 clinical trials typically focus on dosing. As such, Luke falls into the 2nd tier of dosing within this trial. This allots him 40 mg of chemo that will be dripped via CED (essentially a catheter through his head), directly into the center of the growing tumor. The infusion process will be monitored via MRI in real time so they can see which parts of the tumor the chemo is reaching.
We like that this chemo treatment will be administered directly to the point of bane and the non-invasive nature of the surgery. There should be few side-effects, unlike systemically administered chemo. On the downside it does nothing to prevent future tumors. Luke will due his part to stay true to an organic, gluten & sugar-free diet and maintain as many supplements as he can stand to help with prevention. Participation in the clinical trial also means committing to a 2 week follow-up, a 4 week follow-up and in-person MRI/visits every 2 months going forward for the foreseen future in San Fran (as Elsa's calling it) – until something changes, which, we're well aware, could happen at any time… So while the travel commitment is large, we felt that this was the overall best option for Luke and that we'll do what we can to make it work.
We landed back in Portland to our nephew's 2nd birthday and happily got to help him celebrate and see many of Luke's sister's friends and their growing kiddos – all of whom we have grown to know and love over the years. Soon we were home for a whirlwind two weeks, landing within 2 hours of Elsa's first dance recital…back to it, as they say – before Luke's May 15th surgery and dosing.
---
Life is a whirlwind and we are a sum of its parts. A week after we made it home and a week before our planned return to San Francisco, Luke had some pre-seizure-esque activity at work. He started feeling nauseous, having chills, sweats, head to tow feelings and didn't think he should drive – a clincher for me. Shane sweetly drove him over the pass and I promptly took him to the hospital where we met with our favorite local physician, Dr. Anna Gunderson. The idea of flu was quickly abated when he remembered noting a metallic taste a few times. His anti-seizure meds were upped and he was given a valium for mandatory shut-down. This was apparently necessary; he essentially slept for 40 plus hours, waking for small meals. It was a few days before he felt his chipper self again, but by Monday, he was back to work before our imminent Wednesday departure for his Friday surgery.
---
We stayed is a super sweet air b&b not far from the hospital campus. It's been great getting to know different parts of a city we'd only vaguely imagined visiting together one day. We really enjoy it, despite our reason for being here. This time we embraced public transportation. We had a smooth ride to our destination via bus, electric trains and old trollies, but inevitably, we took the long way home – Elsa fell asleep en route…
Luke's sister swooped in and scooped Elsa before we met with the surgeon on Thursday morning, followed by another visit with our oncologist. Luke and I walked to the hospital early on Friday morning for his 6:00 am check-in. Everything is more wrote this time around. We just know how it's going to go – or think we do…, at least we know that things like pre-op are on the 4th floor and you check-in at admissions, on the main level, to the left.
Pre-op is a busy place before the 7:30 am surgery start time, it quiets way down after that. Around 8:00 am Luke's MRI room turned operating room was belatedly staged; he was wheeled away to the inevitable kissing corner, where it all becomes quite real. They sweetly call from the operating room every 1.5 hours or so and check-in to say that all's going according to plan. It's reassuring at the time. Around 1:00 pm, 5 hours since I left him, I got the call that he was in post-op and I could go see him. Not long after I arrived a resident and then the surgeon arrived for follow-up chats.
The surgery went mostly well. "There was some bleeding, when they first went in, must have clipped a vein, but it cleared right up. Unfortunately the tumor grew 40% in two weeks. They put all available chemo into the center of the growing tumor." The original plan allotted some dosing to the scar tissue area – just in case; the scar tissue area had not grown. Since this is a phase 1 clinical trial, they have no way of knowing how much is enough… They know what they hope to see, but not what will actually transpire. I believe they would have added more chemo to the growing tumor if they could have, but again, they have no idea what the effect will be. It may be that this tumor will need to be watched even more closely. Time will tell.
The bad news – they nicked his prostrate when installing his foley catheter, standard procedure for surgery. They claimed he'd have to wear it through the weekend, but in truth, after wasting all of Monday determining the fact, he would have to wear it for 10+ days. Talk about injury to insult. He was probably most concerned with removing this sucker ASAP more than any other part of this procedure.  Bugger. He's taken it mostly well, if pacing around the house is good for a person. It was thankfully easily removed today.
The surgery itself was very non-invasive, Luke requested only tylenol afterwards. There's a single stitch where they went in and two where they were holding his head steady. He's also sporting a super sweet mohawk and already off the steroid taper. No doubt he'll be back to it as soon as he wakes up from a well deserved nap!