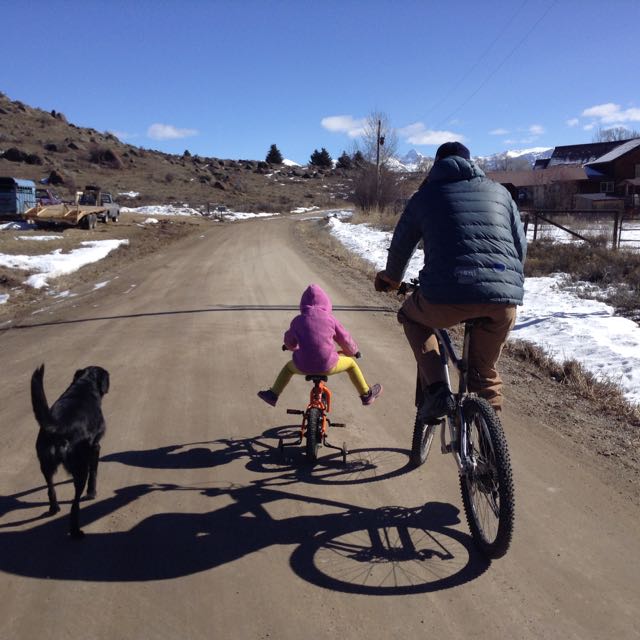 Birthdays, PPP & an MRI…
Life has been busy. Luke's been back to work, on an annual yurt trip with his workmates, fishing, running, biking, skiing, racing – you name it. We had a good birthday weekend (the weekend between our b-days) in Montana with family and fun in mid-March. Though it was a fast trip, we packed in a good run for each of us, climbed the "M" with Elsa, hiked around the cabin and visited 3 parental households in 3 days – whirlwind style.
The next weekend we celebrated Luke's 39th birthday with the JH Pole, Pedal, Paddle. He entered solo in the Men's Rec division. Our friend, Ingrid, generously ventured down from Missoula to compete with me in the Women's Team Rec Division. Luke's sister, Anna, sweetly came from Portland to watch EB and offer much needed team support – there are a lot of transitions and a lot of accompanying gear to keep track of. While Luke participated in this race for the first time last year, this was my first year competing. The race consists of 10 packs of people racing the Women's Downhill at Teton Village, followed by a 5k run (usually a 8k skate ski, when there's snow), an 18 mile bike ride on the highway, through Jackson, WY, then a 9 mile paddle down the Hoback of the Snake River – 35 miles altogether.
I felt compelled to do the race in Luke's honor and more or less with him; so while he trained by running 10 and 15 miles, I upped my occasional run to 5 miles and stepped up my pace – after all, he's the one on chemo, right?! Our women's team name was Lady Pain Neversweat – a great multifaceted name that simultaneously referred to the way we might feel along the way, while paying homage to our MT roots with the name of a mine in Butte; to cap it off, the initials are LPN – Luke Peter Neraas. Unfortunately there was an event beyond anyone's control between our close start times that thoroughly uprooted our shuttle plan. Despite Ingrid waiting 10 minutes at the boat ramp before I could get there, she & I came in 2nd and Luke came in 4th in our respective divisions. It was way more fun than I expected.
Luke's actual birthday falls on March 31st. He spent that Tuesday on the Teton river floating a good stretch and fishing. Luckily he got off before the wind got too aggressive later that afternoon. We had a mellow evening at home with moose tenderloin for dinner and frozen bananas dipped in cocoa & cinnamon for dessert. It was low-key, but delicious.
Thursday brought his 2nd MRI since the 2nd surgery. The news after the initial read was sighting of two 5mm points of concern. The MRI was overnighted to UCSF, but we were left in the land of limbo over the weekend. Not knowing what this might mean, but anticipating possible outcomes. Weighing how well he feels with this horribly aggressive diagnosis – glioblastoma multiforme IV. We're so grateful that he's feeling so well and know that has to bode well no matter the next step, but it's still such a heavy load to carry on a day to day basis while we continue to try to live life to it's fullest and plan for the future.
Given the unknown news, Luke opted to join EB and myself for a whirlwind trip south to Utah for a childhood friend's baby-Q (shower), despite being on a round of chemo. We got in a quick visit with family en route to the event, which was great. Elsa fell asleep as we neared the party, so we also got to drive to the base of Snowbasin to investigate the terrain. It looked well worth a winter visit. A quick Easter morning brought us back on the road north, caravanning with a northward-bound friend via a pit-stop at Lava Hot Springs. Full circle in a matter of hours, really.
As fate would have it we realized that our caravanning friend was witness to our first encounter on Easter, 14 years ago. Rachel and I were skiing down, after hiking up Snowbowl post-season. Luke and his friend Shane were heading up. Through a row they had going that morning, Luke had promised to push Shane over if he caught him as they went up. The four of us met on a slope above the gully – inevitably crossing paths. Shane, whom I knew, stopped to say hello. Luke quickly gained him and promptly bowled him over before introducing himself. While this didn't exactly leave me swooning, we serendipitously found ourselves at the same Easter dinner later that night, where he slyly got my number… So it was lovely to share a toast with Rachel on Easter, so many years later – who knew.
I didn't anticipate meeting the man I'd be with so relatively young – me 22, he 25 – but I'm so glad we did. I'm so grateful for the places we've chosen to live, the friends we've made along the way, the adventures we've had and hope to have, and our growing girl. So very grateful.
The following Monday night our oncologist reached out to say that she believes one of the points of concern is likely scar tissue, the second point she believes could be growing tumor. She asked that we come to UCSF for a consultation on the 27th. This will include another MRI to determine whether the suspect spot is a growing tumor, followed by meetings with both the oncologist and surgeon to determine the next steps, if, in fact it is a tumor…
In the mean time, a twist of fate has sent us to Hawaii for a much needed change of venue and vacation with Luke's sister and family. Luke's sister and family have been with us every step of this journey – incredibly supportive across the board and this wonderful opportunity affords us quality time together in a relaxed atmosphere, rather than dealing with pre and post-surgery scenarios. Since airfare, lodging and rental car were covered by this incredibly sweet and generous offer by a distant family relation, it was impossible to deny and impossible not to enjoy.
Goes to show that one truly never knows what lies around the next bend in the river of life. So we'll wait to know the next steps this journey will entail on a sunny beach in Maui – enjoying this moment and one another.