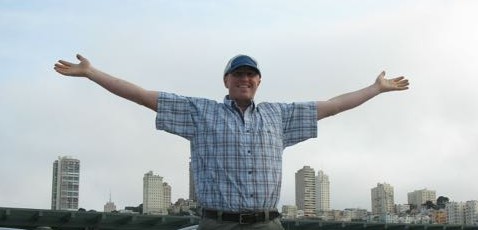 Home!
We spent a few more days after Luke's release, lodged in a private house between the Mission and Castro districts. Dolores Park was a great, nearby park that provided good fun for the kids – Elsa and our one year old nephew, Renan. Luke was forced to spend the majority of the time laying low and recuperating. We started getting him out with a few small walks around the neighborhood, which was charming with many painted lady, victorian homes. Like many San Franciscan neighborhoods, there were also hills in abundance.
We enjoyed visiting the nearby park and watching it transform into a quilt on Saturday as people came out to enjoy the green lawn with picnics galore. Elsa watched wide-eyed as jugglers, acrobats, tumblers and more practiced their arts in a variety of attire. We also ran across a potentially 'formal' meeting of cats & their owners – including a hairless one (cat). Such is city life say these country-bumpkins.
On Sunday a roommate was expected back and we decided to move to hotel digs to keep the family together. It wasn't easy to find lodging in SF during peak season, but my lovely in-laws accomplished rooms across the hall from one another, medical rates, and deep bathtubs in Japan town for our last few days.
Monday we returned to Golden Gate Park to check out the ocean-side end & drive over its namesake's bridge – for the sake of it. The beach would have been perfect if not for the beached fishing boat and numerous officials and news anchors milling about, plus the smell of fresh diesel leaking from the vessel. Quite a bummer.
We returned to the east end of the park, but unfortunately missed the botanical gardens again (closed on Monday!). The conservatory looked so much like those on a show Luke once watched about gardening at Kew in England that even I thought it was uncanny. We saw venus fly traps (with dead flies) in the foyer and later a sign declaring that the building was donated by Kew. Ah ha! We enjoyed the beautiful grounds the front of the building instead.
Tuesday was a rough day – potentially from over-doing the previous day and/or from the steady decline of steroids issued to help reduce swelling. We stayed around the J-town neighborhood and found the best local park at the top of a nearby hill and explored the Japanese "box" stores in our zone to admire the culturally different offerings – both plastic and culinary.
Our last day in San Francisco brought us on a late outing to Fisherman's Warf to take in the aquarium – something Luke wanted to do. The Warf brought a cacophony of languages and accents to our ears as folks lined up to take cable car and bus tours. A lot for anyone to take in, let alone for one recovering from brain surgery. Unfortunately the aquarium was spontaneously closed for an event, but we did get to see some male sea lions playing king of the pier to a cheering crowd and a few big boats before we left the seaside.
We continued on to fill one of Luke's other requests – China Town. As it was late in the day, we did a drive by of the area. To get to the major one-way street through China Town we fell down the hill two blocks to make our way around. Surprisingly this put us downtown in a canyon of tall buildings. We were awed how close the two were to one another and enjoyed the brief insight into both.
We were fortunate to get a direct flight to Idaho Falls from Oakland on Thursday – a seasonal offering that we were psyched to capitalize on. Anna, Luke's sister, had stayed to the end and delivered us across the huge Bay Bridge to the airport in a timely matter. We were so thankful for her big-city driving skills and all her help along the way.
My dad picked us up and returned us home where we found that our friends and family had worked tirelessly to fill our wood coffers to the gills – split & stacked, watered our gardens, washed our windows, mopped our floors, stocked our refrigerator, brought us flowers and delivered a delicious chile verde dinner. Thank you all!!!!
By special request, Luke has opted for a quiet weekend of recovery at home after the hub-bub of city life and travel. We spent Friday making upcoming doctor appointments, lining out the future of 6 weeks of radiology in Idaho Falls, and connecting with an oncologist who comes from Huntsman Cancer Center to Jackson twice a month. While we haven't yet met the new oncologist, we have a good recommendation on him. It also feels good to have a combined team of UCSF & Huntsman oncologist on our side – a regionally successful line-up, we hope.
We look forward to seeing everyone in the coming weeks and will keep you posted as this uncalled for saga continues. Luke is healing and feeling amazingly well. We've gone for a few small local hikes with Elsa – she makes a good pace car for Luke and he's enjoying taking it slow and looking at things in a macro way.
Thank you all for your thoughts, prayers, energy, physical, emotional and financial help. We are so sincerely thankful your support – from the bottom of our hearts to yours. xoxo