Birds of a Feather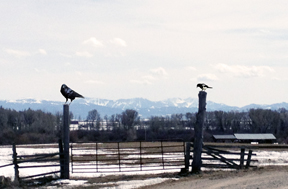 As temps soared in the Tetons today, Elsa and I were spurred to run to the creek. As luck would have it, she fell asleep and I was able to go a touch further before I ran into a neighbor, immediately followed by someone else I needed to speak with – a serendipitous outing; however, after all these catch-ups, Elsa woke up. We decided to head back to the homestead to do some raking.
The corner, as we affectionally call the bend in the road nearest our house, was occupied by a couple I've seen together more than once – a raven & a magpie. While the actual birds flew before I could rouse my phone to capture them, I've borrowed some birds from the internet to complete my visual for you.
You'll see by my near-done piece pictured below that I've had their conversations on my mind.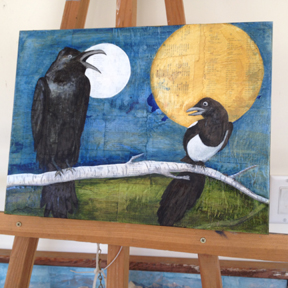 Spring, growth, signs, light, and migrating birds galore.
What do you think they're talking about?
SaveSave