Family Reunion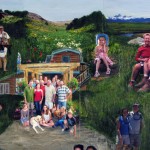 Carolyn had a family reunion this summer.  At first she thought it would be a fun surprise to have a montage done in time for the reunion, but then it was decided to incorporate the reunion into the final piece – which worked out splendidly.
She invited me over to take a collective photograph of the whole crew – three generations gathered to take advantage of a Teton Valley summer. It was wonderful to catch up with everyone and capture the family together.
This montage, based primarily on Carolyn's personal photos, incorporates the pool & patio from their Boise home, their long time home in Teton Valley, Carolyn & Mike's wedding day, each of their children, grandchildren, her father, their passion for fishing and the Teton River.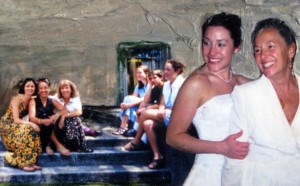 I enjoy using photographs in my work because of they add such exceptional detail – like only a photograph can. Using personal photographs has the added benefit of stirring up details & emotions that naturally accompany photographed moments in our memories.
It's an honor, challenge and joy to juxtapose parts of people's lives in photographic detail and blend it into a single vista. For example in this detail, Carolyn sits on the courthouse steps with two friends on her wedding day, her children look on from the side in various stages of teen thought. In the foreground Carolyn stands beside her daughter on Monica's wedding day. They appear to be looking over Monica's shoulder at a younger Monica looking on her mother on her wedding day.
Life is full of these beautiful circles – each generation coming around to add new marriages, babies, pets and experiences to the whole. I love that my work allows combining these various factions of our lives into one. Because in the end, it is all one – a life well lived.